With
Hugo
, director Martin Scorsese has created a film that honours cinema's rich and often-overlooked heritage. But in a kid's movie?
B
ased on the best-selling children's novel
The Invention of Hugo Cabret
, the film is less concerned with the titular protagonist and more about the lore of the first "cinemagician,"
Georges
Méli
ès
. But therein lies the problem.
Hugo (Asa Butterfield) is a young boy living in a Parisian train station circa the 1930s, orphaned and left to fend for himself. As the
de facto
custodian of the station's massive clocks, he spends his days fixing small toys and objects, pilfering food and machine parts, and running away from the station guard, Inspector Gustav (Sasha Baron Cohen).
Hugo's accompanied by Isabelle, (Chloe Grace Moretz) a young girl whose father (Ben Kingsley) runs the station toy and curiosity shop. Both of the child actors are okay, but Kingsley (who looks surprisingly like Robin Williams in this film) is noteworthy. Inspector
Gustav exists as comic relief, but I found him (likely due to Baron Cohen's whiny fake accent) pretty annoying.
The strange thing about this movie is that the narrative of Hugo exists only through the first half of the film, where we learn his past, why he's alone, and what he hopes to accomplish. His prized possession, a broken automaton, holds a secret — one that will only be revealed once it's fixed.
While initially interesting and even perhaps whimsical, the pacing of Hugo's story is much slower than any kid's films I've seen in recent years. In that sense, it may be a nice film to take restless children to.
Hugo
may put them to sleep.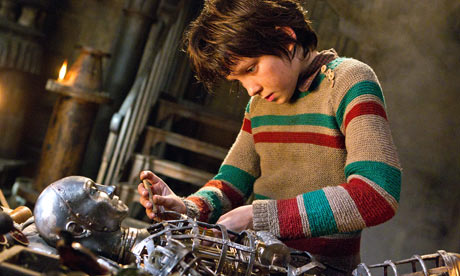 Title character Hugo attempts to fix his mysterious automaton, a humanoid robot.
I should mention here that
Hugo
is Scorsese's first attempt at a 3D film. And while I appreciate the old college try, the use of 3D in
Hugo
does not feel justified, nor does it seem a boon to the film's overall aesthetic. Many of the scenes are dimly lit (bad news for dark 3D glasses), and there isn't much to look at other than the steam-filled clockwork rooms and busy train station. The most obvious "pop" is when the camera gets in the face of a dog or two, but even then it's still a stretch. To illustrate this, watch the video below
my friend and colleague Raj
linked me to:
In other words, the main component of
Hugo
's 3D is close-up shots of dogs.
Despite being marketed as a children's movie, Scorsese doesn't seem to care much about their demographic. This movie, besides the kid's novel vessel its adapted from, isn't about Hugo. It's about Georges Méliès, which is admittedly a good thing. Scorsese has championed film history and film preservation for ages, and he finally has the chance to tell a story about one of cinema's greatest legends. Unfortunately, it's too little, too late — Hugo's greatest moments (and for anyone interested in cinema's past, they are definitely great) come at about 90 minutes or so in the overly long, 127-minute run time. Had Scorsese decided to make a biopic about
Georges Méli
ès, this film could have been extraordinary. It's too bad the beginning is only middling, because when the film history becomes Scorsese's focus, Hugo really shines.
(2.5/4)